2009.07.08 Wednesday
Basic T-shirts & Camisole
まずは第一弾、ベーシックな黒の
T-shirts
と
Camisole
を発売しました。
"オシャレは頑張るもの、多少の着心地は我慢!" なんて今の時代に合わないと思います。
Rhubarbe は "きれい+着心地"の両方を1着の中に入れちゃいました。
T−shirts は 
"肩からバストまでをきれいに見せたい!"シルエット
"あれ〜 一日着てるけど、何だかいつもと違って疲れてない!"という着心地感
を目標に作ってみました。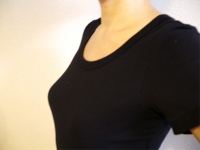 Cami は
"バストをきれいに見せたい!"フォルム感
"今日 キャミ着てたっけ?"と思う位着ている事すら忘れてしまう着心地
を目標に作ってみました。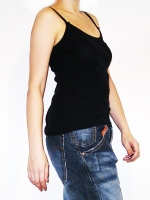 "着るもの一枚でこんなに変るのね!"+"こんなに楽な服合ったのね!" を実感して欲しい気持ちから始めたRhubarbeのスタートです。
伝えたい事がたくさんあるのですが、上手い言葉が見つかりません
good day^^
Today, Rhubarbe Web Shop opened.
(Sorry that this is only limited inside of Japan.
If you are interested, pls. contact directly, thanks.)
At this first oppotunity, we present you to introduce our basic line, such as
T-shirts(Pls. click to check the item)
and
Camisole
.
With our passion to make perfect fit (that set you beautifull) + to preserve comfortness.
NO need to be patient to wear tight fit clothes to make you beautiful any more.
The T-shirts:
creats a beautiful bust line from shoulders,(as we can say "a sophisticated decollete"
on the other hand, you feel very comfortable, that keeps for all day long. (pls. check the photo on the above)
The Camisole:
creats a beautiful bust line.
also comfortable as if you almost forget that you actually wear it.
Here we start "Rhubarbe" to introduce a new type of "not only chic but also comfortable".
wish you for a gd day^^